Posted on December 2, 2020
---
For the Why Me family, it means being eco-friendly to care for Mother Nature by saving clean drinkable water, managing waste and, reducing the use of energy.
---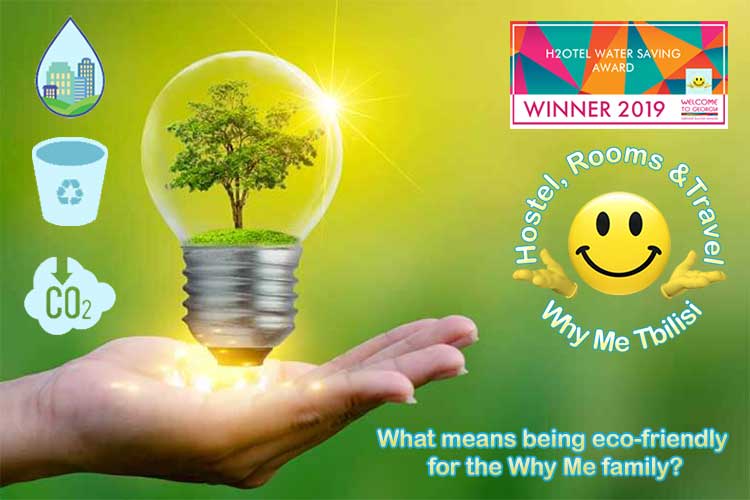 ---
"Setting goals is the first step in turning the invisible into the visible" - Tony Robbins
As mentioned above, everything needs a purpose. Even a small idea that comes to a person's mind has a purpose. This is how the story of the Why Me family begins. The founders of Eco-friendly Why Me Tbilisi have always been involved in several projects related to recycling. Many projects were focused on installing the Internet in classrooms with recycled computers in countries with fewer financial possibilities for schools. During one of these projects, we learned that a young mother had to walk almost 15 kilometers with a baby in her arms to bring home drinking water. The Why Me family was deeply touched and changed a lot in their lives to save precious clean water with simple DIY solutions. This is how the dream of opening an eco-friendly hostel appeared.
The Why Me family began to think, plan and prepare everything to fulfill their dream. It took three years before the hostel building was ready, and another three years to achieve the results we hoped for: a building with low energy consumption and minimal water, gas, and electricity consumption per guest per day. These results are achieved with many DIY solutions. Our sustainable solutions are applied in several areas:
Low-energy building
Eco-friendly ventilation system
Sustainable water management
Reducing the use of electricity
Recycling and waste management
Low-energy building
The building of Eco-friendly Why Me Tbilisi is a so-called low-energy building. The idea is that the whole building is heated by the body heat of the persons staying in it or with minimum use of energy. To achieve this result without the use of gas or electricity, we needed a sufficient amount of insulation. The thickness of our walls is 40 cm and they are built of perlite blocks and high-quality insulation of at least 15 cm. The roof is made of sandwich panels insulated with 10 cm thick high-quality polyurethane foam.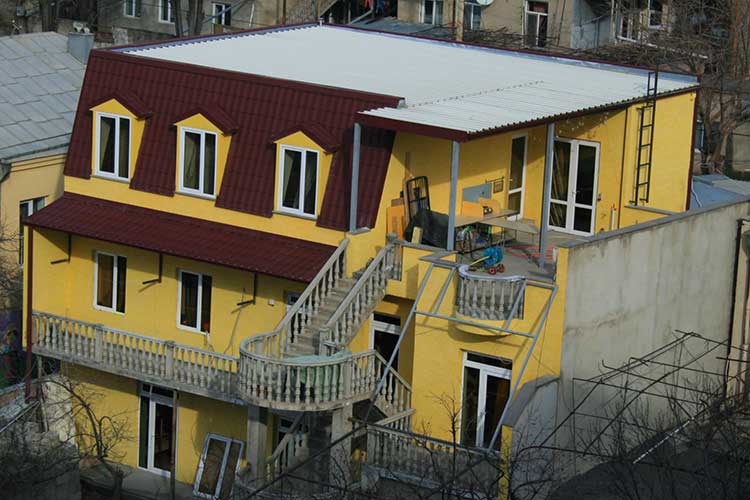 Eco-friendly ventilation system
Thanks to our eco-friendly ventilation system, we do not need to be heavily heated in winter and don't need to have air-conditioning in summer. Our eco-friendly ventilation system is equipped with a heat exchanger, which ensures that during cold periods fresh air from outside is preheated before it is blown into rooms and public areas. In summer, the ventilation speed increases at the moment when the air outside is cooler than inside and simulates an air conditioner by blowing more cool fresh air into the building.
Sustainable water management
The Why Me family succeeded to reduce the use of clean drinkable water with sustainable water management. Water is the most essential resource for people. Clean drinkable water is not always available in some parts of the world, and with this in mind, and with the desire to be more careful with drinkable water, we have created a rainwater harvesting system and water recycling system.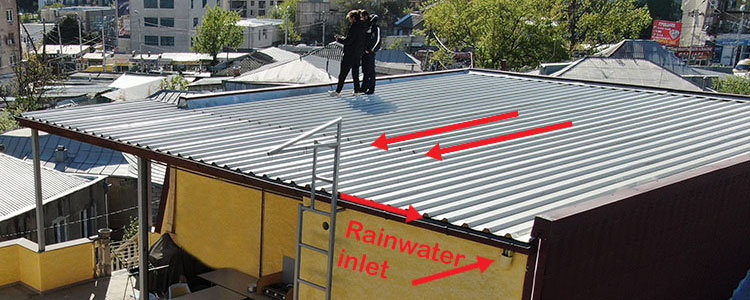 Rainwater harvesting system
Our rainwater harvesting system consists out of four tanks with a capacity of 1000 liters each for maximum rainwater collection and a filtration system to clean the water. Our laundry is washed with rainwater. Rainwater is ideal for washing laundry. It does not contain calcium, which allows the use of a minimum of washing powder, and thus less environmental pollution.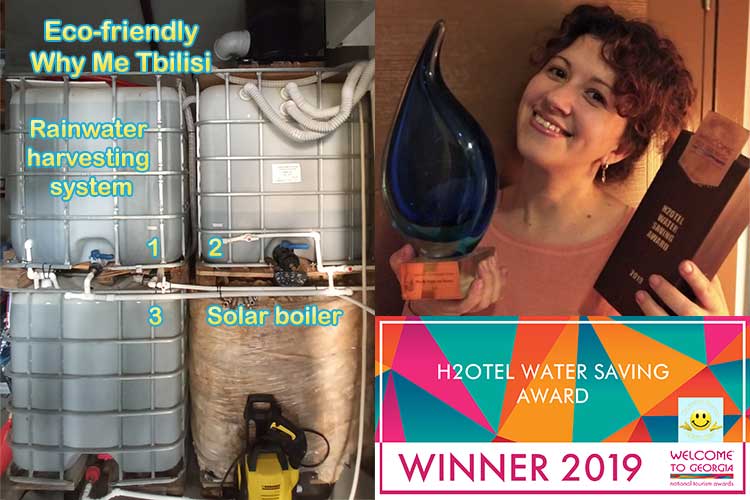 Thanks to the fact that we recycle water and have a rainwater harvesting system we won the H2Otel Water Saving Award
Water recycling system
Our water recycling system consists out of two tanks with a total capacity of 3000 liters and a filtration system to clean the laundry water. The recycled water is used for watering the garden and flushing the toilets!
All these measures make sure that we reduce the use of clean drinkable water to the minimum. The Why Me family believes that if we save precious clean water, the water will save us.
Reducing the use of electricity
Electricity is one of the most used energy sources. Unfortunately, production of it is not always as safe as we think. More than half of the electricity is produced in dangerous and polluting power plants. A good example of this is the disaster in Ukraine and not such a long time ago in Japan. These examples show that we all have to use less electricity and replace these dangerous power plants with solar energy.
Reducing the use of electricity is a big part of our eco-friendly project. We use led lights and saving lights from Philips in all of our rooms. In our common areas, we use efficient motion detectors that turn the lights on and off automatically and in this way, our lights will not be turned on when it's not needed. All our devices are labeled as 'green' and have low electricity consumption.
Recycling and waste management
There are many different waste bins in the Why Me Tbilisi building because we divide our waste. We collect for recycling: paper, glass, metal, empty batteries, plastic bags, and bottles. In addition to all this, we use recycled paper and always use both sides of the sheet when printing.
Future projects
Although all our eco-friendly solutions are already giving good results the Why Me family never stops improving. Our future projects are solar water heaters and photovoltaic panels.
Solar water heaters
One of our future projects is the installation of solar water heaters. It will not be just a standard solar panel, but a panel made from recycled materials. Empty aluminum cans and recycled wood are used to make these panels. The hot water from these solar water heaters will be supplied to the showers.
Photovoltaic panels
The second future project is the installation of photovoltaic panels to generate our electricity.
Why Me Tbilisi encourages everyone to take care of nature! Please recycle waste and do not pollute our planet!